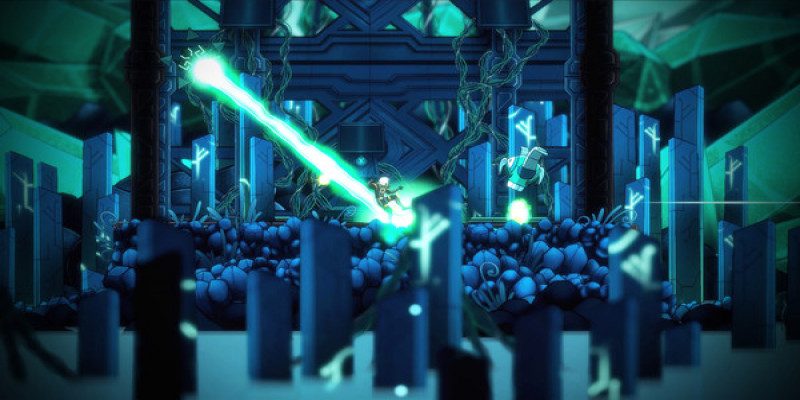 Aeterna Noctis to Appear on PS Store Due to PlayStation Talents
Games are the key for a successful platform, and Sony understood it when launched PlayStation Talents program. Now it pushes a Spanish developer Aeternum Game Studios to the store with their Aeterna Noctis project, a Metroidvania game that is already available for PC on Steam. The game is to be released for PS4 and PS5 in December 2021.
In this game, your character is no less than the King of Darkness who tries to enter the world of Aeterna Noctis (Eternal Night) and conquer it. In his conquest, he will meet hundreds of enemies, dozens of bosses, and 16 areas to go through. There are three ways to choose: according to your manner, you can succeed with magic, melee weapons, or ranged weapons. But remember that your opponent, The Queen of Light, is as immortal as you are, and each time you defeat her you have to wait until she's reborn and back in power and glory. A good premise for a game to spend many hours in.
The adventure promises about 20 hours of gameplay, but due to a branched skill tree the game is highly replayable. In addition, it has lots of side quests that appear as you contact the NPCs. As for playability as it is, the game will be great to control with DualSense or even good old DualShock.
The Last Of Us 2 to Support 60 FPS on PS5 with the Latest Patch
The Last of Us 2 is no more a new game, but still a highly playable, and even those who's been through it can enjoy the new features brought in by Naughty Dog. According to Arne Meyer, the director of communication in Naughty Dog, the developers are about to roll the patch that enables 60 FPS mode on PlayStation 5.
The players will still have choice between the good old 30 FPS and the brave new 60 FPS, plus the resolution grew higher as PS5 allows it. Given the new hardware that enables the game to look better in any way, the promise seems quite realistic, and the pleasure promised is worth a shot. The postapocalyptic landscapes will look even more detailed, the characters will move smoother, and the controls will let you operate with more precision. In case you had any doubts, it's out for free.
They say it's just the beginning of reinventing the game. The developers of The Last of Us 2 have been exploring the hardware of PlayStation 5 since it became available and found many more ways to improve the performance. This means The Last of Us 2 will become an even more gorgeous experience. If you have not given it time since its original release in June 2020, maybe you should try it on PlayStation 5 already and enjoy all the new features the publisher hints at.