All trademarks belong to their respective owners.
Clash of Clans review
Clash of Clans is a legendary MOBA game by the Swedish developer, Supercell, the company behind such hits as Clash Royale, Hay Day, Boom Beach, and Brawl Stars. In this fun game, you can build and run a village, create a powerful clan, and wage endless clan wars to become the most powerful ruler in the Clash of Clans world. This game is available for Android and iOS on Google Play and the App Store.
Storyline 10/10
Clash of Clans is a beautiful virtual world in which you can test your strategy-making skills and build a real virtual empire if you're good enough. You start as an ordinary settler who doesn't know a thing about technology and the art of war. You have 2 ways to predetermine the fortune of your village. The first option is to create and lead your own clan. It's a tough mission because it's very hard to find allies when your grouping doesn't have an authority on the worldwide arena. However, if you have a bunch of good friends who are ready to play on your side, it's really worth a try. The second way to start gaining credits and experience, and get the basic protection is to join an existing clan. It doesn't matter who created it, but your position in the clan has to be reviewed and confirmed. That happens quite fast, though.
Now that you know your path, you have to start developing your village. There's no perfect strategy for that, but it's definitely important to focus on defending constructions, productions, and training of new units. The most important building in your village is the Town Hall. The defending forts include several classes of walls, mortars, traps, cannons, and throwable bombs.
If you don't feel like jumping into the intense multiplayer war, try the fascinating campaign mode. It will take you through the entire world of the game and introduce you to all the gameplay features. Besides, you can take part in friendly challenges and wars that won't take a lot of resources but will help you to practice harmlessly. Remember that you can combine spells, troops, heroes, and attack types to get a unique approach to every battle. Your enemies may not expect your next turn, so try to be original to win.
Graphics and Sound 10/10
Clash of Clans features top-down 3D visuals, but the camera angle is always static. You can only move it from side to side and zoom in to explore details. Every building and unit is animated, so it's very exciting to look at how they all work and interact during the average day in the village. The soundtrack includes several dynamic tracks that emphasize on the quietness of an ordinary preparation day as well as on the danger that you face when the enemy is near. The soundscape is also very natural and alive. Every little thing in Clash of Clans makes a sound.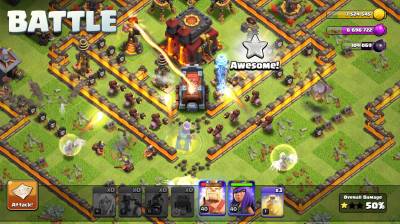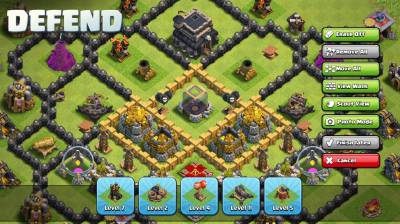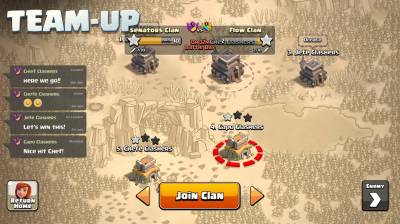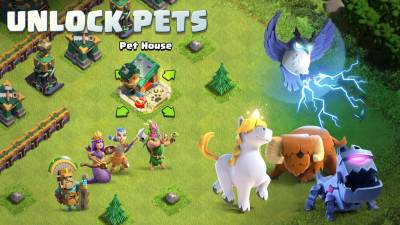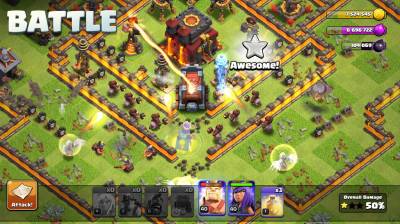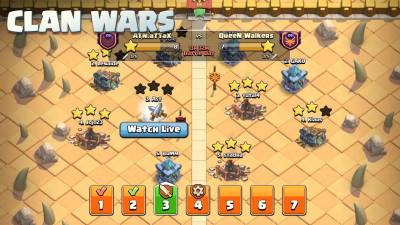 Related games